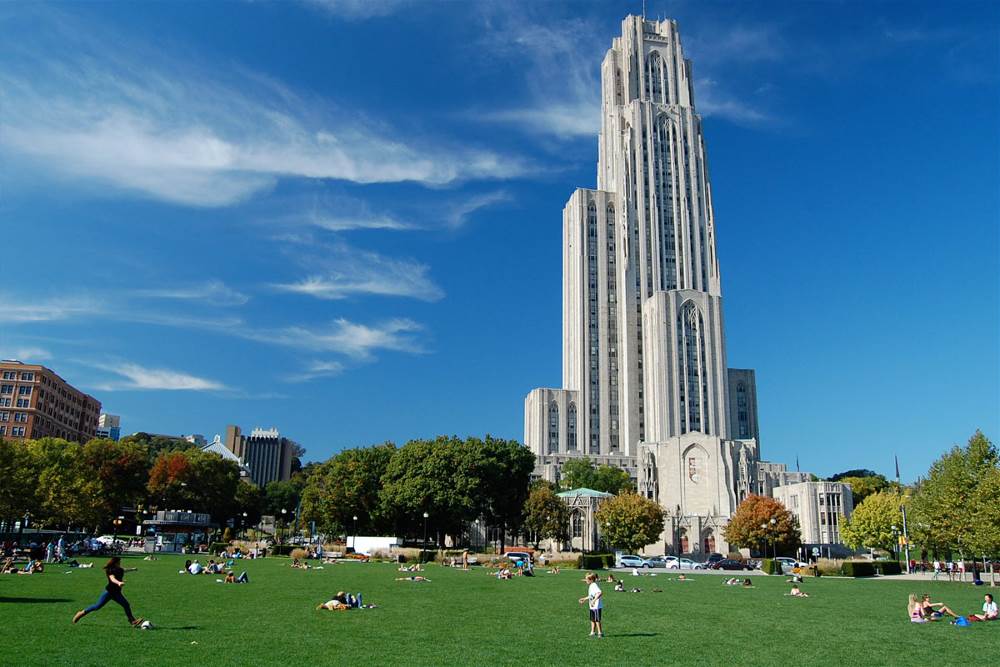 The Carvunis Lab is affiliated with the Department of Computational and Systems Biology of the University of Pittsburgh School of Medicine . The University of Pittsburgh was founded in 1787. The campus, located in the city, is highly walkable and displays a broad variety of architectures. Perhaps the most notable building is the Cathedral of Learning, which was built in honor of education and harbors a multitude of functional classrooms  decorated by different countries around the world.
Opportunities:
The Carvunis Lab is affiliated with the Department of Computational and Systems Biology and the Pittsburgh Center for Evolutionary Biology and Medicine. We strive to promote team work and ambitious thinking in an ethical and productive interdisciplinary environment (request to see our Lab Manual).
Internships: undergraduate and Masters students interested in doing research in our lab are encouraged to apply. We typically invite undegraduates to come do research with us full time during the summer, either through the TecBio (funded and competitive, for computational students) or through the RTP (unpaid and not competitive, open to any student) program. Pitt students that have worked with us one summer may be invited to join our team more permanently during the school year. Please send an email to Dr. Carvunis including your CV and a letter explaining your motivation.
Postdocs: several funded postdoctoral positions are currently available for highly motivated scientists with training in bioinformatics, evolutionary biology, or yeast genetics and genomics. Please send an email to Dr. Carvunis with a CV, references and a cover letter explaining why you would like to join the lab, how your existing skills may be connected to the research area you may pursue with us, and what your professional goals are.
Graduate students: students of a program affiliated with the University of Pittsburgh should simply email Dr. Carvunis to meet in person and potentially schedule a rotation. Other students, including international students, are also encouraged to contact us if they are interested in our research.
Undergraduate Summer Research Position: Funded by an NSF Career Award, the Carvunis lab is offering a paid 10 week-long summer position running from May 31st, 2022 to August 12th, 2022. The undergraduates will be involved in a hands-on research experience in addition to learning a variety of wet-lab techniques and bioinformatics methods. Students will also participate in laboratory events like journal clubs and weekly lab meetings. Interested applicants should reach out to Kate McCourt with any question (kmm325 [at] pitt [dot] edu) and check out this advertisement if they would like to apply or would like more information about the program.
---
Get in touch:
Anne-Ruxandra Carvunis (PI): anc201 [at] pitt [dot] edu
The Carvunis Lab
10025 Biomedical Science Tower 3
3501 Fifth Avenue
Pittsburgh, PA 15213
Phone: (412) 624-9354